Ladon
Digital video recording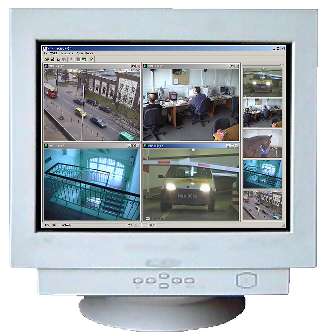 Ladon
is a modern computer system replacing all the analogue displays, switches, cassette recorders and multiplexers. It offers cheap and utterly functional monitoring system based on PC computer instead.
The system consists of video capture card MetaGuard and software application that allows video watching, hard disc recording and its future high fidelity examining. Hence easy service and friendly user graphic interface there is no necessity of professional servicing. Recording can be started regularly every time, individually given to each camera (from 0.1 second!) or it can be initiated automatically only when movement in the picture preceived. Ladon remembers all the registered pictures for a given time, so you can easily receive informations about the recorded events.
By using video cmopression of large efficiency, the disc memory consumption has been reduced significantly and the image keeping period has been enlarged to a few dozen days.
Advantages
compatible with both colour and grey scale signal sources,
image observing/registering from as many as 20 cameras,
movement detection with programmed sensitivity detection in the given picture areas,
friendly service - graphic users interface,
bmp, jpeg or avi recording with given resolution and quality,
image future examinination and high fidelity reproduction at any given speed,
all the advantages of video capture card MetaGuard.
Applications
monitoring and guard service support in:

office buildings,
departments, agencies, public places,
storehouses, supermarkets,
museums, hospitals,
car parks, petrol stations,
schools, stadiums,
gardens, holiday residences,

access control,
slowed down continuous recording of long lasting processes.
Features
| | |
| --- | --- |
| Number of cameras: | up to 20 |
| Image: | up to 768 x 576 pixels, up to 24 bit colour, up to 60 frames/s |
| Record frequency: | from 10 frames/s up to 1 frame/hour. |
| Image recording formats: | AVI (any compressor), JPEG, BMP |
| Image recording parameters/features: | bits/s number or image quality (AVI), compression factor (JPEG) |
| Image recording scale: | from 1:1 to 1:8 |
| Movement detection areas number: | unlimited |
| Movement detection parameters: | threshold sensitivity and size of the object established individually for each area |
| Data storing: | periodic, with exact data and time of registration included. |
| Operating systems supported: | Windows 98, 2000, Me, XP |
Ladon Centrum - Remote management of multiple Ladon systems