MetaGuard
Video capture card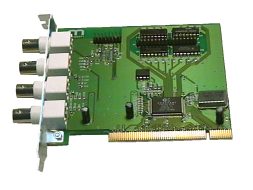 MetaGuard
is a quick real time PCI framegrabber capturing colour or grey scale image from analogue video signal sources. It is compatible with all world vision systems and is able to intercept picture at full speed, up to the full resolution and full colour. Metaguard allows also flexible frame down scaling, free choice of resolution and colour quality. 8 digital inputs and outputs let this frame grabber driving numerous types of external devices. Hence delivered library and clear SDK interface Metaguard is suitable for a wide range of tasks.
Advantages
possibility of using a few cards in one PC,
4 to 11 analogue video inputs per card
30 full frames/s for NTSC, 25 for PAL,
WDM drivers, DirectShow,
16 universal control I/O lines,
easy "Plug and Play" installation,
quick start enabled by friendly SDK with example application,
Ultralock option that allows reading unstable signals
hardware key function,
precise time measurement.
Applications
video digital recording,
monitoring,
single frame capturing,
industrial image processing,
machine vision,
videoconferences (using many cameras),
any applications using DirectShow.
Features
| | |
| --- | --- |
| Card format: | PCI "Plug and Play" |
| Number of video inputs: | 4 to 11 (BNC - Composite Video) |
| Resolution: | 768 x 576 pixels |
| Number of frames per second: | 60 (NTSC), 50 (PAL) |
| Video signal standards: | NTSC, PAL, SECAM and their variations |
| Frame scaling: | hardware, free, vertical and horizontal independent |
| Colour formats: | RGB24 (24 bit colour), Y8 (8 bit grey scale), RGB555, YUY2, YVU9, YUV12 |
| Digital inputs/outputs: | 8 inputs/ 8 outputs (optoizolated) |
| Drivers: | WDM, DirectShow |
| Operating systems supported: | Windows 98, 2000, Me, XP |
| Using few cards in one PC: | yes |
| Developers support: | friendly SDK with examples and source codes (C, C++, Pascal, Delphi) |